Posted by: cryptosp
« on: 15. September 2023., 07:58:39 »
Bitcoin On-Chain Metrics Show BTC Price is Bottoming Out
CryptoCon, an independent analyst with an extensive following, posted a chart on Sep. 13, underscoring the importance of the bottomed-out MVRV-Z score on the Bitcoin monthly chart.
In detail, the MVRV Z-score compares Bitcoin's current Market Value to its 'fair' value. The latter is calculated using standard deviation, which pulls out the extremes in the data between Market Value and Realized Value. Practically, when the MVRV Z-score peaks, the price peaks along with the metric. A valley in the MVRV Z-score chart indicates a bearish market.
The analyst's graph below shows that the metric's bottoms coincided with Bitcoin bottoms in four out of four bear market ends – in 2011, 2015, 2018, and 2022.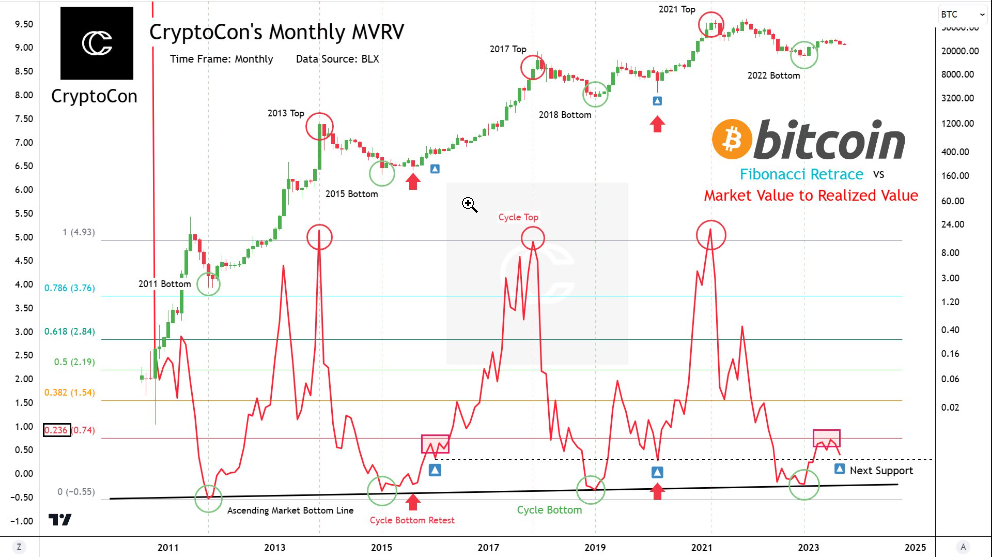 Bitcoin Short-Term Holder Loss Has Peaked
CryptoCon also noted the short-term holder loss as a "bonus" predictor of a bear market end. Short-term holders are wallets that have held their BTC for less than 155 days. According to on-chain data provider Glassnode, over 83% of short-term Bitcoin holders faced losses.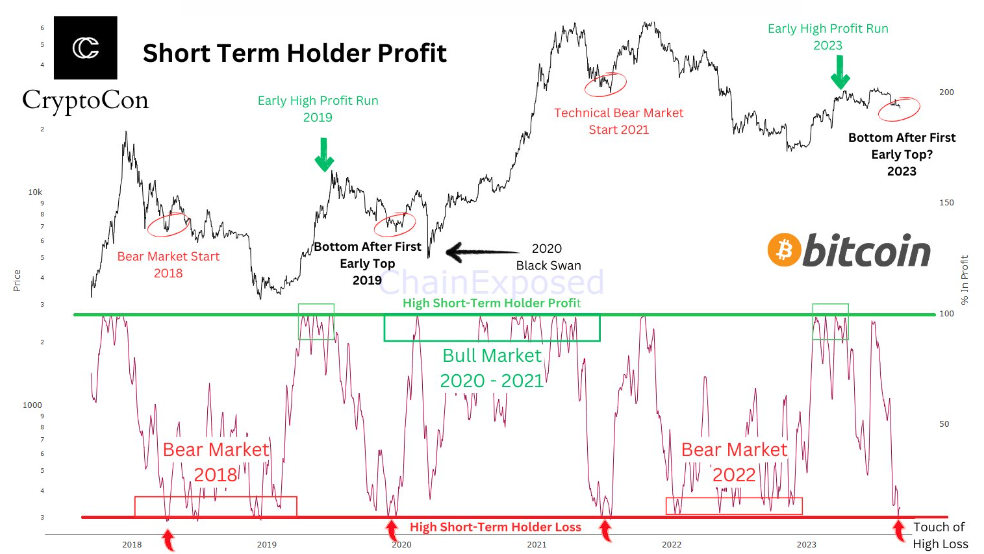 Notably, the charts above do NOT indicate a bullish streak ahead.
The bottom might be in, but more consolidation might follow before a bull market is possible. Darius Tabatabai, the co-founder of Vertex Protocol, agreed, citing low trading volumes on the crypto market and investors' unwillingness to park their limited assets in the sector.
It feels like fatigue, and with a general pullback in liquidity from market makers, any move lower tends to be more volatile. That said, the environment is challenging, with volumes still low overall and users not returning to crypto in droves as of yet.
he said in an interview with CNBC.
Moreover, as September is a historically challenging month for the alpha crypto, Bitcoin could be stuck in a tight range below $30,000 before Q4/2023.
Website: https://coinchapter.com/bitcoin-on-chain-metrics-show-btc-price-is-bottoming-out/